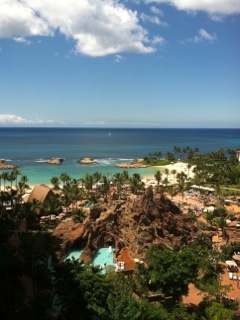 I have spent about an hour and a half this morning looking at options and figuring out how to go to Hawaii. I love Hawaii. It is my second home. I have accumulated a pretty decent cache of airline miles and I am going to Hawaii with them. My husband and I are. So I have spent a good part of the morning just kind of researching options and dates and looking at the pros and cons of each. What the costs will be, what is available on points, what is available period, what the price differences are based on time of year, what if we go here first and here second, and all those sorts of things.
This is work, yes, but it is pleasurable. It gives me satisfaction to work the angles and figure this out. It gives my mind a workout as I think through all of the options and tradeoffs. I have tried literally dozens of combinations. Thankfully, with the Internet, I can do all of this work and fail quickly. Fail? Well, yes. I can see all of the things that will not work so that I can find the one(s) that will. Doing this failing quickly helps get me where I am going. In this case, Hawaii.
I imagine that you also do this in your life. Perhaps not with vacation but with whatever your passion may be. Well, I challenge you, and me, to start applying it to our "real" lives in a concerted and open-minded manner. How about we step out and see how we can fail more quickly in our jobs, in our relationships, in our businesses and other areas? Sound too risky? Or stupid?
It is only risky if you look at it that way. The more secure we are in ourselves, in our abilities and skills, in our inherent worth, and the more faith we have, the more we are able to fail and brush it off, learning the wonderful lessons that only failing can provide. Edison found 10,000 ways not to make a light bulb. Do you think he would have found the one that worked had he not been open to failing?
How about Walt Disney? He failed and went bankrupt multiple times. Now we get to enjoy the legacy and magnificence of his creations. If he had been afraid to fail, none of this would have happened. None of it. There would be no Disney movies, no Disneyland, no Mickey Mouse.   There would be no powerhouse entertainment company that represents the highest level of guest experience.
You wouldn't be talking, writing, walking, married, working or most anything in your life if you had been afraid to fail in getting there. No one is saying to fail on purpose by doing something you "know" to be stupid. But be careful that what you "know" is not just something you believe because you have been told or because you tried it once and it didn't work. That is a dangerous place to be for it will continue to limit you and keep you in your box.
So we set the destination, we move forward with research, action and due diligence. We course correct as quickly as possible, noting what works and what doesn't work. We learn the lessons on the way and find out more about ourselves and others along the path. We enjoy the journey because it is only in this learning and doing that we are truly living.