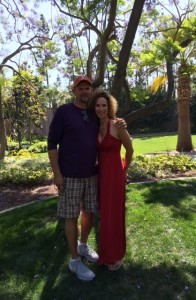 I have always been somewhat independent. I like that about me and it has served me in a number of ways. My mom taught us that we girls should have a great education and career and that it is best to never depend on anyone, particularly a husband, to take care of us. This is somewhat odd because my father was the sole breadwinner for most of my childhood and the vast majority of my parents' marriage. Even in his illness and death, the plans and provisions Dad had made have taken great care of my mom. But somehow I got the opposite message very strongly.
This is a good thing, for I believe that each of us has a calling. Each of us is here to do something to serve others and we will only be our happiest whilst pursuing that.
I also know that life, for me anyway, is meant to be shared. While I love my Me time, I also love being connected and loved and part of a strong, intimate union and partnership.
Partners. I never really knew what this word meant before. However, as I began to truly love and accept and respect myself, I have grown in understanding of the concept.
Partners are equal. Partners each have a role. Partners each bring strengths to the table. Ideally each partner is a nice complement to the other and both grow and expand from the relationship. We are better together.
Partnership includes holding each other accountable in a loving and respectful way. It is about having guidelines and acceptable standards for each other and the relationship as a whole. That perhaps sounds harsh. It isn't. It is what I will call expectations without attachment. It simply is how it is. Each party knows and happily, enthusiastically agrees to how it is. Neither has to be concerned about these expectations or worry that they will not be met. They will be. And if on the odd occasion they are not, well, then it may be time to revisit, but more likely it is time for grace and more love and respect. Notice I said grace. Not sweeping it under the rug. Not ignoring it or making a huge production of it.
Simple accountability checks and communication.
It is not one person doing everything. It is not one person doing all of the things that neither care to do. It is about playing to strengths. It is about delegating, trading or even hiring others to do the things that neither have an affinity for. It is taking excellent care of yourself, but being mindful of your partner at all times. It is supporting and respecting your partner at all times, even when disagreeing.
It is going first. It is giving from your overflow. You have put your mask on first so now you have plenty to give. When you have plenty, there is no resentment or keeping score.
Partners. Pure magic.