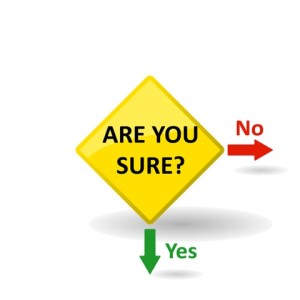 When you decide to do something, I mean really decide, then it happens. When you are sure, when you know that you have crossed the line and taken a stand to move forward, then you will do what it takes to make it happen. If you are toying with the idea, thinking about doing it, considering it, hoping it will happen, it won't. If you simply believe it will happen, it won't.
You have to know. You have to say, okay this is it and it is non-negotiable. Believing is saying well, I would like for it to happen but I still doubt. I have a plaque that I got from my mother-in-law when she was moving from her home of 40+ years. She didn't want it anymore and it came from a closet. I got it several years ago and I remember thinking wow, yes this is it, when I saw it. It is the difference between hope and faith. Hope is nice and makes us feel good but it doesn't make it happen.
Years ago I did a presentation for my colleagues on how to make and exceed your sales numbers. We had a saying there – hope is not a strategy. In my presentation, I surprised everyone when I said that faith is part of the recipe for success. Most confuse faith with hope. They are not the same. I don't think I explained it well back then because I didn't quite get it fully myself. I knew that when I had faith all was rocking, even if there were missteps. I knew that it was a requirement, somehow. I now know how to explain the difference. That plaque I saved from its garage sale fate summed it up nicely.
Faith is not believing that God can. Faith is knowing that He will.
Hope is helpless and wishy-washy. Faith is empowered. Faith means I am certain and taking the steps I am led to take rather than fearing that they will be wrong. It means I am going forward and will do my best according to what I know, without forcing it. Faith knows that even if I make a misstep, things will still turn out for my benefit in the end. Faith is confident and strong. Hope holds a seed of doubt.
We can have faith and still get an outcome that we didn't expect. It will be better, even if it doesn't appear so in the moment. Faith knows that and embraces it. Faith comes when you make a non-negotiable decision. Faith comes when you stop worrying your prayers and simply trust. Then all of your internal resources and those unseen are aligned toward it.