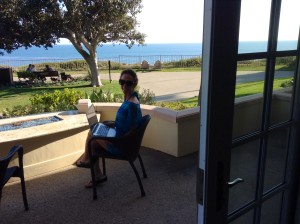 I am sitting on my patio overlooking the Pacific Ocean in Laguna Niguel as I write this.
The firepit is lit.
An oversight on my part in booking hotels ended in a very happy bit of serendipity. An amazing upgrade adds to the fun. These lovely coincidences happen to me all the time now as I choose to create a fantastic life for myself.
A change of room type to better suit my business at Disneyland led to a change in plans. And a lovely detour to the beach today.
You, too, can create the life you love. My calling, my path and my desire is to help teach you what I have learned. That is what Love Starts with Me is all about. Stay tuned as we go further into how.