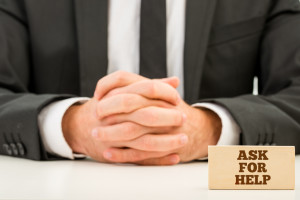 For many years, I never asked anyone for anything. It was something I wore as a badge of honor. I got this! That was my mantra.
I was uncomfortable asking. I was even uncomfortable receiving most of the time. If someone cared to give me a gift or a compliment I thought oh you didn't have to do that. Oh this? I got this shirt at Target for $5. Or whatever. Offer to open the door for me? Uh no thanks, let me open it for you!
This current flowed through all of my relationships. In my family, friendships, and work interactions. At work I had to ask people to do things for me sometimes, as this is the way business works. I couldn't do my own commission reports, for example. I know. That I asked.
So in these cases, I would suddenly become a little child asking for a BIG favor. I felt guilty for having to request help and for adding to their burden. Especially when it wasn't done on my timeframe and I had to ask repeatedly, which was often, or to my specifications, which also happened. A lot.
It happened a lot because of the energy I put out there in the apologizing and begging way I asked.
All of this reinforced in me the idea of better to do it myself. (Sometimes it truly is easier and better to do it yourself but know your reasons why and know what you are sacrificing when you do. Then make the conscious decision.)
This "I will do it myself" state of mind didn't really preclude me from secretly wanting people to do things for me. Especially my husband. He should know what to do. He should know what I like and what I need today. Well if I have to tell him then forget it. He ought to know to do these things for me. Keep in mind that I had been operating from the "I will do it" mindset heretofore, brushing off previous offers or attempts to help.
So when it would come to blows and I would finally say something, it would be either a command or an intended guilt trip. I do all of this and it would be nice if I could get just a little help here. Ha! Let me mention that I did not realize at the time that I was doing this, of course. But I was. You might be, too. And then we wonder why it never changes. Hmmmm. We wonder why we don't get the help we need.
Let me let you in on a little secret, sistahs. He cannot read your mind. No one can. That is right, NO ONE. Even those with whom you are closest cannot really know what you are thinking or requiring if you do not tell them.
It is easy to do. It doesn't have to be filled with baggage and venom for all of the ways they have failed you, unbeknownst to them (well, he SHOULD know!). By the way, it really is unbeknownst to them because it has been filtered out by their brain (RAS). Our minds do not work the same way. I had trained my beloved to shut down and be very still and quiet and ride out this storm. It will blow over. It always blows over and then we are back to normal. Whew!
Anyway, it is easy. You just have to ask. Would you please…? From a place of love and respect and gentleness. From a place of calm and surrender. Yes, it is vulnerable and we do not like that. But this is intimacy and connection. It actually is the place of utmost power. Asking for and graciously accepting love in the form of help. When we love ourselves we can do this because we know that the answer doesn't change who we are. It doesn't change our intrinsic value, which we now realize is a constant.  Regardless of the answer.
And miraculously, I realized that my wonderful husband LOVES to help. He loves to do for me and to please me. Who knew?!
It is very similar at work. Asking and setting clear expectations up front, getting agreement from the beginning. Stating what is necessary and having all parties understand and commit to the plan. What a novel idea! And when, and I say when and not if because despite my being the eternal optimist, it is always a matter of when. When it doesn't go to plan on something important to you, then you have the foundation for that further conversation. You now have a beautiful opportunity to speak calmly and confidently about what happened and how to correct it in the future, without attacking.
You have an opportunity to improve communication and understanding of the requirements and improve understanding and compassion for those involved.
No need for egos or hard feelings.
Now isn't that better than suffering in silence or blowing up in frustration?