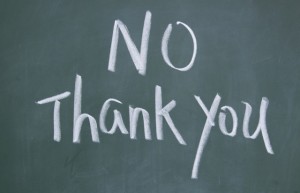 I am a salesperson. I have been a professional salesperson, a sales executive for more years than I prefer to count up at present. And I have been a salesperson since before my first breath. I am sure that at some point I was selling my mom on the idea of adjusting her body to better accommodate mine, even in the womb. We are all salespeople. We all have ideas to share and people to help via those ideas. This can occur directly from the ideas that were shared or via the inspiration to create new ones from the exchange.
To me, it matters much less if you choose to use my idea or process or service or product than it does that you were helped in the process. Of course, I am a businessperson and I would love for you to see things my way and/or decide to purchase from me. And I do my best to help you to do so. However, what if, for you, for now, my way isn't best? What if you aren't ready? What if you found something you feel is better? What if you took the information that I shared and made more of it on another path? What if you were spurred by our discussions to feel confident in choosing another way? Great! Fantastic on all counts! My end goal is served no matter what. Thank you for that.
Many have been reticent to share the no with me. My quandary is that somehow I have created a host of these lately. When days and weeks and months go by with no connection, I wonder how I could prevent that in the future. Why is it so difficult to tell me no? Or not right now? Or we have no idea so we are not going to do anything?
How can I make it easier for you to feel comfortable in telling me the truth? A direct no is always preferable to silence. I learn from the no. I redirect energy based on the no. I can improve by hearing your no and especially the why behind it. Going forward, we will have this discussion up front so that we all know that no is valid, acceptable and sometimes the best thing for everyone involved. It is truly okay to say no and to say it as soon as you know. That is the kindest no of all.