I recently began working out with a trainer again. It is absolutely amazing how much I have improved in four weeks.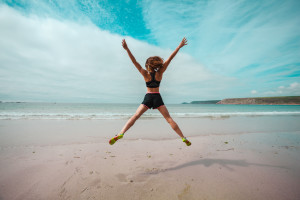 That is what a coach does for you.
But I am not going to talk about that today. I am going to talk about how important it is for us to stay fit, healthy and attractive. So much depends on it, including the health of our relationship.
"Well, if he doesn't love me skinny, fat, ugly or pretty then forget it!" True. However, I am not talking about him now.
Looking and feeling good contributes to success in all of your relationships. Including the one you have with you. If you aren't giving your body the proper nourishment and movement, you are not treating yourself as well as you could. If you aren't resting and playing and giving yourself lovingMe time, you are not loving yourself like you could.
If you are not loving yourself then you are not going to be as loving to anyone else. If you are down on yourself – any aspect of you, you cannot operate at your best. If you are not healthy and full of energy for your life, then everything else suffers including what you were put here to do.
And those closest to us, our partners, spouses, lovers bear the brunt of the inevitable frustration that ensues from that.
It will be subtle many times. We start pulling away. Not letting him touch us the same way. Not being as confident. We start feeling worse and worse about ourselves and about everything. Perhaps we even begin questioning his attraction to us because we secretly wonder how he could be attracted because we aren't attracted to this cranky person we have become.
Be good to yourself. Love yourself a little more each day by doing what is best for your body, mind and spirit. Choose not to look at it as work or sacrifice but as the most loving thing you can do for yourself. Go slow and take incremental and additive steps. Praise yourself for each one you take. Give yourself what your body, mind and spirit cry out for. Love yourself enough to be fit, healthy and attractive. To you and for you. And the fact that he will love it is a bonus.