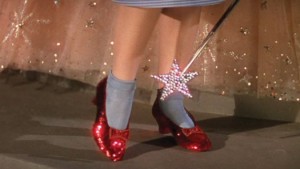 photo courtesy of Profiles in History
Another gorgeous day in paradise! I am awake and alive and the sun is shining so beautifully outside of my office window. I am well into my day and now ready for my "work" day. I have written, worked out, planned my day and now I am writing again for you.
Do you wake up like this? Do you have a passion and a vision of what your day will bring? Are you planting seeds every day toward your dreams and desires whilst savoring the heck out of the process and your amazing life right now? No? Why not?
I can certainly relate if you don't. It wasn't always like this for me, either. I found myself realizing I was built for more. Then after hitting a pretty good hard bottom, I woke up and realized I had the ruby slippers all the time. You have them, too, but you have been looking for them to fall from the sky or appear on your feet. No, you already have them and they are worn between your ears.