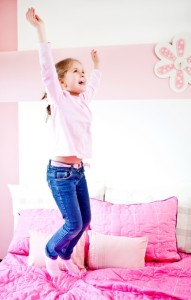 I love being a girl. I don't know that I have always been able to say that honestly. I went through stages where I downplayed my girliness. I used to like to be one of the guys. I shied away from being feminine and girly. I judged girliness as a bad thing. I wanted to be seen as powerful, strong, intelligent and competent. I thought girly girls were just, well, girly and less than smart.
I was very competitive, focused and high achieving. I was hard working, hard playing, hard drinking, and hard on myself. I had a filthy mouth and had no qualms about using it in most settings, including and especially at work.
Then there was the time in my life, probably part of high school and occasionally after, where I downplayed my intelligence and strength around boys. I didn't want them to be intimidated by my power, strength, intelligence and competence. I didn't want them to see what I had for fear that they would reject me because of it or their fear of it (I suppose I assumed they would fear it based on some experience(s) I had.)
Isn't that ironic? Well, no more. I realize that I can be girly AND powerful, strong, intelligent and competent. I can be successful and smart without having to act like a stereotypical guy. I am all of those things and more. I see that I can fully express all of who I am. I can promote the best of all I am. It is not either/or. It is both/and. Not everyone has to like it or resonate with it. It is totally fine if not. I know that there are plenty who will and most importantly, I do. I embrace all of me now. I also embrace all of you. So let us see who that is, please. I give you full permission.
If you don't know how you can and would like some assistance, you can start here.
P.S. I spent over an hour looking for an image for this post. The sad truth is that I couldn't find one picture of what I was envisioning – a strong woman who wasn't in a manly suit or over-sexualized. That changes through each of us right now here in our community.