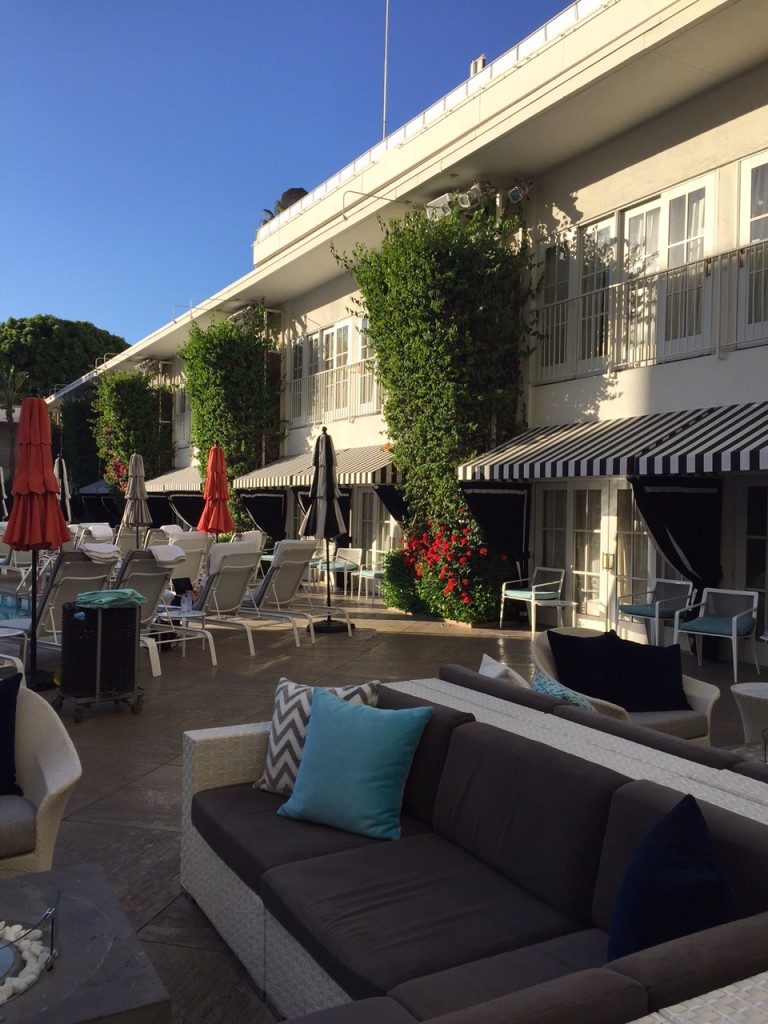 Writing here on my last day in LA for this trip and this has been my office. It has been an amazing 6 ½ days. My trip was supposed to be closer to 3 ½ but I decided to stay a few more to soak in this powerful creative vibe. I have always been drawn to this area – since my first visit when I was 8 years old.
What do your business trips look like? Are you coming to great places like sunny SoCal, having your meetings all day, eating at the hotel or even in your room, then rushing home or to the next destination? Is the thought of extending a few days exciting to you and yet not feasible in your current world?   Are you experiencing the greatness in each place you visit?
Why not?
Is that reason you just listed even true? Or is it a knee-jerk response? Is it a product of your current limited thinking?
Life is meant to be lived. It is meant to be enjoyed. It is meant for more than a drive-by existence.
I used to think I had to do things the way that I described. I used to rush from one thing to another in my job. I used to be so consumed with being busy that I missed my own life. I was there for it, of course. But I wasn't present. I was not engaged in each moment. I was always on to something else, usually something to do with my company's agenda. As I like to point out – not my company's fault. They were doing their job in creating that agenda. It was my choice, albeit unconscious, to go along without thinking. I unconsciously chose to get sucked up into that way of living because I didn't truly know how to think independently.
Now? I choose. I consciously choose in an ever-increasing way because I learned how to think differently. I learned how to think for myself and in a higher way than ever before.
Now I also show my clients how to choose. I show them a higher way of thinking which leads to a higher way of living. This leads to truly enjoying the success they are creating for themselves, rather than going through the motions. Rather than limiting themselves to "some day" thinking as I did for so long, we choose to embrace and savor our success now. No matter if that is sunny SoCal or rainy Mexico, Missouri.