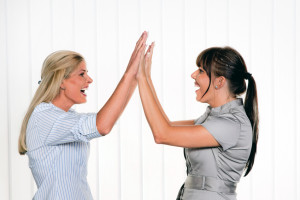 One of my friends recently asked me about what I do. She didn't quite understand why people would pay money to have someone help them reach new levels in their relationship. They could do it on their own was her thinking. It was a great conversation and helped me to get more clarity.
People absolutely can, and ultimately must, do the steps on their own. That is why I love publishing my Good to Me Guide each weekday. To help my readers and myself, quite frankly, to stay in tune and thinking better thoughts and taking better actions.
However, the overwhelming evidence shows that most people will not do it on their own. At least not fully. We just aren't going to get the same results on our own that we will with a coach.
That includes the most internally motivated of us. We are not wired to purposefully and regularly push ourselves past our comfort zone. Much less into the brand new territory where real growth is spurred.
Moreover, there are few people who have been taught, who really do know what to do to create a great relationship. This isn't taught in school. It usually isn't taught in families. And it isn't even taught fully in churches or other such organizations. There hasn't been a place to go to learn from someone who has actually done it herself.
I have and that is why it is such a strong calling for me to teach and coach others to create this as I have done for myself. You can get my new free guide here.