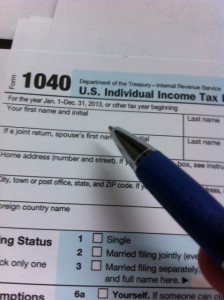 Adversity holds the seed of greatness. That is what they say anyway. In the moment, adversity seems only to hold the seed of pain and frustration.
When I face a frustrating situation, I stop to examine it thoroughly. Then I look and see how many times I have been given this same opportunity to learn this. And yet didn't and therefore I am getting the lesson again. This is one of those times.
It is tax time, two days until taxes are due or in our case, our extension filing is due. Every year it has been the same. Oh this is crazy, we have to get on top of this. We have got to get organized and plan better and be willing to look at this throughout the year. And then sometime in early April, we actually start for the prior year.
My husband has been a soloprenuer for as long as I have known him. In that time, he has worn every hat. I have helped here and there but he really, until maybe last year, did everything on his own. Accounting is his least favorite activity. Last year, we decided that it would be better for me to take on the bookkeeping. He even got me Quickbooks for my Mac. I put it in my Simpleology account to do one day (Simpleology.com – greatness, check it out.)
That was where it ended. I never scheduled time for him to show me. I didn't play with it on my own. Then he went on his annual artists' retreat. Then it was the holidays. Then it was too late for last year and now it is April 13. I didn't do it and there is nothing I can do about the past except for forgive myself and learn from it.
Here I am again getting this lesson again. It is one I have obviously been resisting quite heavily. However, I get it now. I do. I know that getting and staying on top of this for both of our businesses can only help us grow, focus and improve. If you do not know where you are at any given time, you cannot know how to get to your next destination. Think of going to Google maps, and not putting in or allowing your location and requesting directions. No worky. So now I am declaring that I finally know that this is required going forward. However, saying I know it now and really knowing it as evidenced by consistent action over time are two different things entirely. I am committing to really knowing it.
What lesson can you commit to really knowing today?